Project "Algorithms for Pre-distortion and Equalization of rX and tX terminals" (APEXX):
Technologies for Broad-Band Data Transmission via Satellite…
The amount of digital data, that need to be transmitted worldwide via satellite connections, is steadily increasing. Due to on-board limitations of satellites, the transmission methods should be as efficient as possible. None-linear effects in the transmission chain, most important are those in the flter and amplifiers (IMUX,OMUX, TWTA), decrease the signal-to-noise-ratio (SNR) and therefore the possible data rate. To increase data rates again, these none-linear effects should be compensated in the modem.
The APEXX study was announced and assigned by ESA within the ARTES 5.1 "Techniques and Technologies for Ultra-High Throughput Multispot Beam Networks" program. TZR is the main contractor for APEXX and has three cooperating partners, which are SES Astra TechCom S.A., Luxembourg as industrial partner and the Royal Institute of Technology, Sweden and the University of Luxembourg (Interdisciplinary Centre for Security, Reliability and Trust) as university research institutes in the field of telecommunication. Intention of the APEXX study is to investigate algorithms for (digital) pre-distortion und equalization with repect to their applicability and performance within future communication scenarios. The definition of possible future scenarios is part of the project. Selected algorithms will be analyzed in detail using a numerical simulation environment that describes the real channel accordingly.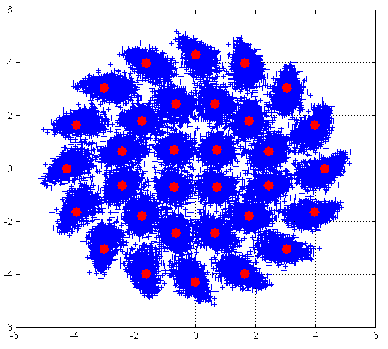 Figure: Constellation diagram of a distorted 32APSK-signal (none-linear effects of a satellite transponder).
Task of TZR within APEXX
As main contractor TZR is responsible for the project management and the coordination of the APEXX team.
Further TZR will perform the numerical simulations and will prepare the simulation environment to bench mark the algorithms. The definition of mission scenarios that have to be respected in the simulation will be defined by SES Astra, the university partners will contribute the algorithms to investigate on.
Evaluation of and conclusions on the simulation results will be performed together by all partners.
APEXX is an ESA order, further information can be found on the ESA project web page under: APEXX Project Page, ESA